There's a special strip in Sarasota, FL that borders the Gulf Coast. West of the US-41, also called Tamiami Trail, which runs from Tampa to Miami is where you can find some fantastic homes for sale. It's a place that's surrounded by a beautiful natural environment, culture and history that's rich and varied, and a vibrant and warm community. Welcome to West of the Trail.
Here we'll fill you in on what you should know about homes for sale in West of the Trail Sarasota, and what you can expect if you're thinking about making a move and living in this special part of Florida.
A brief history
Sarasota was incorporated into the US state of Florida in 1902. Before this, what would become officially named the city of Sarasota was a group of small communities.
Strange as it may seem, in the latter part of the 19th century, Sarasota was actually home to many Scottish people. An investment company based in Edinburgh acquired 60,000 acres of land and transported a considerable number of Scots to their development.
Though many would not stay, they would pave the way for others who would come in at the beginning of the 20th century.
A noteworthy inclusion to any history of Sarasota has to include the influence of John Ringling and his wife Mable Ringling. Not only did they bring the famous circus to Sarasota, they also left a museum that has become the official state Museum of Florida.
Today Sarasota is not only known for its beaches and natural beauty, it is a cultural center, all of which makes it increasingly popular for families, young professionals, and people looking to retire.
Housing styles in Sarasota
Influences from all around the world, over a long and colorful history has left West of the Trail with a diverse range of housing styles. There are Island design homes, modern, and coastal houses to name just a few styles from which to choose.
Modern
Modern architecture perfectly complements the Sarasota landscape. There are many different ways to express modern architecture but a home built in the modern style is instantly recognizable.
The style adopts clean lines that are bold and make a statement. The textures tend to be smooth and strong, and generally shy away from elaborate ornamentation, instead relying on minimalist simplicity to create eye-catching designs.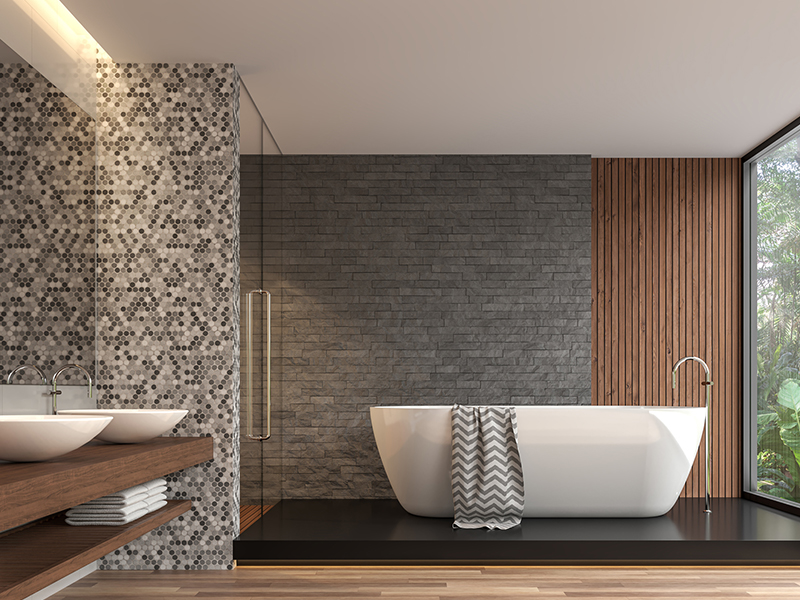 Glass is used to maximum effect, often going from floor to ceiling. This takes full advantage of the outdoor scenery and blends the outdoors with your indoor life. To further enhance this, floor plans tend to be open with each space seamlessly flowing into the next.
Homes built in the modern style in Sarasota are examples of how the right architecture perfectly marries with the area they are built in.
Coastal
At its best, a Coastal home exudes the elegance and simplicity of living next to the coast.
Living in a home that's designed in the coastal style evokes the sense of a breeze you enjoy as you walk along the beach.
Open floor plans and high ceilings enhance the sense of boundless space, air and light. As much as possible, these homes try to incorporate the outside environment with the internal home.
As with modern homes, coastal design takes full advantage of the light, you'll often find full length windows which cover all the area from floor to ceiling, in effect acting as a wall.
Tastefully furnished, these homes can be stunning, and perfectly blend the comfort of luxury living with the nature view just outside your home.
Island
Island style homes are wonderful statements of architecture. Often built over 2 or more storeys, and often featuring living areas that are elevated, they offer a great view as well as a sense of being fully incorporated in the natural surroundings.
They often tend to have a light relaxed feel but also have an understated luxuriousness. This open design makes for comfortable living even in very warm or humid climates.
Benefits of living in Sarasota
Finding a home for sale in West of the Trail Sarasota and moving there can be a considerable change of lifestyle for many. Indeed, if we have a look at where people are moving from, we find that most come from New York, Boston, and Chicago. In the first 2 cases, that's the other side of the country and in the case of Chicago, it's not really that much closer yet a world away in terms of lifestyle.
So what is it that draws so many people from the other end of the country?
Tax benefits
Living in Sarasota means enjoying better tax benefits than most of the country. The national average for Sales Tax stands at 7.3%, in Sarasota the rate is 7%. However, it is in income tax where people really benefit. The national average income tax rate stands at 4.6%, Sarasota does not tax income.
Employment
The job market of Sarasota looks bright. In the last year the market increased by 2.6% and the unemployment rate currently stands at 4.6%, the national average is 6%. Even more encouraging, the prediction for the next decade is that job growth will increase by 44.6%, this growth is much stronger than the predictions for the national average which is predicted to be only 33.5%.
Sarasota has a diverse economy and this is naturally reflected in the different industries in which people are employed. Industries which employ high numbers of the population are accommodation, food services, and retail. This is not surprising for a tourist resort city. The healthcare sector also employs high numbers of people and again, this is to be expected in a place where many choose to retire. Other sectors that employ significant numbers are the professional, scientific, and technical sectors and education.
Cost of living
The overall cost of living in Sarasota is marginally higher than the national average.
This is to be expected in such a highly desirable location. Using 100 as the overall national average score for cost of living, Sarasota scores 102.7. However, if we break this figure down into their separate criteria, we see that there are certain costs that are higher and some which are much lower than the national average.
Housing is more expensive with Sarasota scoring 114.4 compared to a national average of 100. However, if we look at health costs (97.6), utilities (94.2) and transportation (90.9) we can see that the initial investment in a property in Sarasota can be offset in time with benefits in certain expenses.
The Sarasota real estate market
The Sarasota real estate market is unsurprising competitive. The median sale price over the last 3 years shows a steady rise in home appreciation. Of course, there are times when house prices can sharply rise and dip but overall the trend of home prices is continuously upward.
In May 2021 the median price of a house in Sarasota stood at a little under $300K. A year later in May 2022, this figure had reached $400K. By May 2022 the median price was over $450K.
On average homes stay on the market for around 13 days before being sold. This is less time than the national average that most aggregators put forward. However, there are homes which are very desirable and sell very quickly, sometimes in as little as 4 days. These homes often sell above their asking price.
Fun in Sarasota
Sarasota is a resort city that provides almost endless opportunities for fun, relaxation and venues to appreciate culture and art. Here is just a snapshot of what you can see and do in West of the Trail Sarasota.
There's so much to see and do at The Ringling that one day would not be enough to fully appreciate all it has to offer. When you also take into account that there are frequent events and performances, it's easy to see why The Ringling is a cherished locale for culture and the arts.
The Ringling Museum of Art, built by John Ringling showcases some of the finest art this side of the country. Almost 100 years old, this museum is a treasure of Sarasota, given to the people of Sarasota to whom he gifted the museum upon his death in 1936.
In the same locale, there's also The Ringling Circus Museum, a fascinating museum dedicated to all things related to the performance of the circus. It's a great day out for the kids, but adults too can marvel at probably the biggest collection of artwork, props, and costumes that went into putting on the greatest show on earth.
When you need to slow the pace down, take a walk in the Bayfront Gardens, made up of many other connected gardens that will all delight. Here's where you can walk in the shade of over 2350 trees.
Morton's Market has been serving Sarasota for over 50 years. Since opening, it has expanded from being just a grocery store to being the full service market it is today.
Here you'll be able to procure fresh seafood, quality meat, and fruit and vegetables. There's a wide variety of cheeses in their cheese shop, cheeses that originate from all areas of the world. Near this cheese section, there's a deli where you can acquire smoked salmon, pate and even foie gras. Of course, there's a bakery full of delectable sweet and savory items.
What would fresh and delicious ingredients be without a great wine? Morton's Market carries a good supply of well known brands but also has a selection of curated bottles. If you're looking for something special, maybe for a celebration, their specialists can guide you through their choice selections.
Morton's Market is part of Sarasota's history and continues being a loved establishment in the community.
Marina Jack in downtown Sarasota has 316 slips where you can dock before exploring what the city has to offer. Or you can simply make your way down and enjoy the beach, great shopping, and some truly wonderful restaurants.
Visit The Dining Room, and dine on some of the freshest seafood in the area. There's turf as well as surf and anyone not in the mood for fish can go for something like the pan roasted duck breast or lamb shank. To complete the meal, there's a comprehensive list of wines, spirits and cocktails.
Other options include the Lounge and Piano Bar and the Blue Sunshine Patio Bar and Grill. These are relaxed restaurants where you can enjoy an aperitif, cocktail or just a beer as you take in all the vibrancy of the waterfront. The food is enticing and wonderfully prepared.
Marina Jack is also the place to schedule a great sightseeing cruise aboard the Marina Jack II where you dine and take in all the beauty of The Gulf of Mexico in comfort and luxury.
The Beaches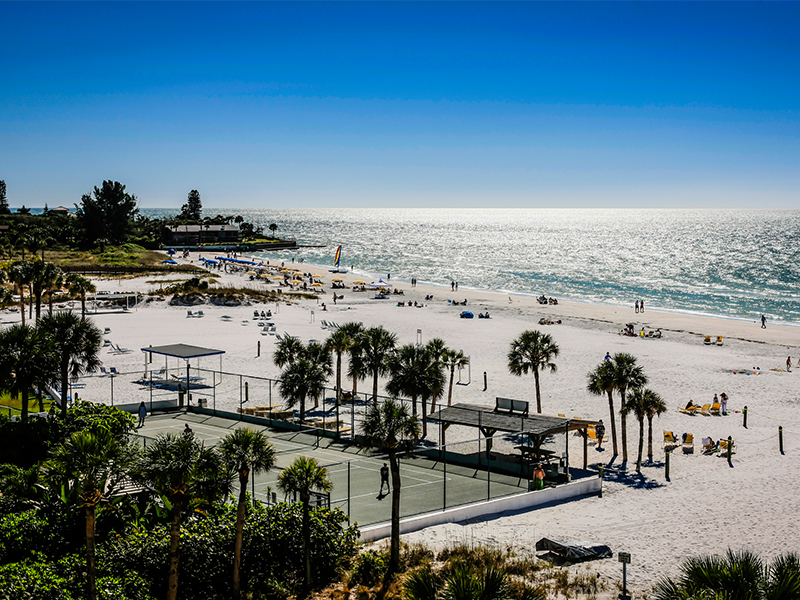 The beaches in West of the Trail are spectacular. One of the most pristine and picturesque is Siesta Beach. Take a stroll along the coast and just enjoy the fine white sand and its sparkling blue waters. If you have young children Lido Beach Parkis where to head. Even though it's family friendly, with its own playground, it's generally uncrowded and is well serviced with places where you can dine or order food. If you're looking for a stretch of beach where you can get more privacy and a sense of the wild, Longboat Key'spublic beaches might be for you. Bear in mind though, that unlike Lido Beach, there are no nearby amenities so do bring food and water as well as any equipment such as chairs or umbrellas.
There are almost 30 golf courses alone in Sarasota, and yes the first one was built by a Scotsman. If you include those near the city, this figure rises to over 90. One of the best Golfing communities is The Oaks, which not only gives you a fantastic round of golf, it has a great clubhouse and a strong sense of community. As The Oaks is a private club you'll need residency in one of their properties to be a member. For a golf course open to the public, there's the Tatum Ridge Golf Links. The course at Tatum Ridge will see you navigate 18 holes of varied terrain including 11 lakes.
Find your place in West of the Trail Sarasota
If you'd like to find out more about living in West of the Trail Sarasota, or you'd like to inquire about homes for sale in the area, reach out to Laura Stavola. With over 2 decades experience in the industry, many of which was for Sotheby's International Realty, Laura has accumulated the experience, know-how and the contacts to provide discerning buyers with the highest levels of service. Her dedication to her profession is surpassed only by her desire to make her clients' ventures a success, all in the smoothest way possible. The results speak for themselves. Laura is recognised as being in the top 1% of producers worldwide.
Contact Laura at 941.447.4875 or leave her a message here. We'd love to hear from you and start your journey to sunny Sarasota.